Forum rules
Forum rules
This is a place to share fair and systematic reviews of gear. Share the good, bad and ugly as well as including how you tested it and reviewed the gear. This is not the place to carry on about a bit of gear that failed, sometimes good gear has a lemon - this is more about systematic reviews. Although this can be a way to help gear manufactures with feedback, this is not the place to hassle them or ask for money back.

Start each thread with
[tag]Brand, product, RRP in AUD. The tags have two parts the type of gear and type of testing/review. eg
[Sleeping bag | Unboxing] Kmart Summit Hooded $29
[Stove | Field test]Jetboil, flash $150

Suggested review types. Unboxing, field test, 1 year on, stress test, teardown.
If someone else has already reviewed the same product in a similar method then please use the initial thread to include your review. Please note if the gear was provide to you for free, loan, discount or if you paid full RRP.

Tue 06 Nov, 2018 9:28 am

Saving up for a MLD inner for my Trailstar. I've read a bit about Ookworks and Bear Paw. Bear Paw still advertise on eBay.

Thoughts on waiting for an older used ookworks cuben or Bear Paw cuben.

Ookworks earlier work feedback appeared to be good quality.

Bear Paw in earlier years appears to be a lower level quality but still good as well, as far as I can work out.

At what point (year) did these inners appear to be questionable or am I barking up the wrong tree.

Feedback.

Exchange rate is a nightmare!

Thanks

Last edited by

Peterac

on Tue 06 Nov, 2018 3:41 pm, edited 1 time in total.

Tue 06 Nov, 2018 9:52 am

Yep. There are options, but Ookworks has gone down.

So the current options are with MLD or with BearPaw.

MLD's verstion: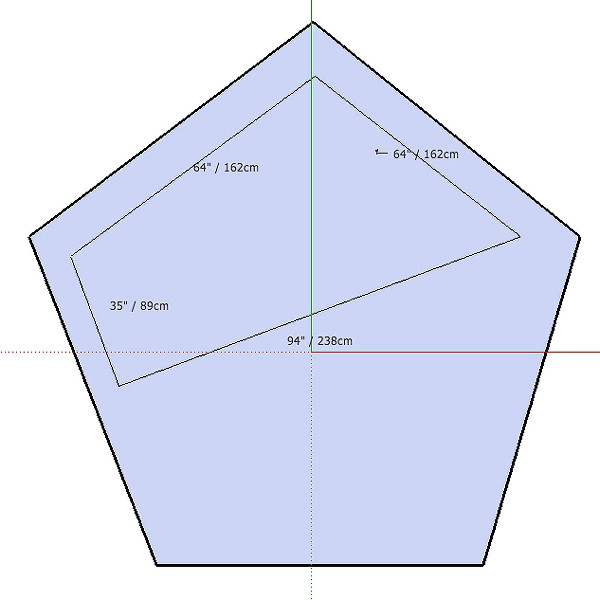 Bearpaw's version:
Would be having a look at both of them, they'd been made for years. Bearpaw seems to have more options on their site, maybe MLD would make options also.
https://mountainlaureldesigns.com/produ ... -innernet/
http://www.bearpawwd.com/net_tents/pyranet_1.php
Also, there are other posts of the Trailstar inner here:
viewtopic.php?f=58&t=27777
Tue 06 Nov, 2018 10:10 am
Yes design is not really the issue. An inch here there doesn't matter. If I look at the used market I save money but not if quality is not there. More reading about Bear Paw does not seem encouraging.
Tue 06 Nov, 2018 5:33 pm
Hi Peterac, apologies for late reply, I saw your e-mail but for some reason the site wont let me answer. [ I was overseas ]

As said Ookworks has passed away so to speak, received some e-mails about Bearpaw which weren't too complimentary, so I bit the bullet and bought the MLD version, which I've only used in the backyard for a couple on nights, but I'm very impressed. The quality of construction is excellent, and once I get my head around the Trailstar, I think it's between this and a Terra Rosa tarp in my outdoor future. I struggle a little to get the Trailstar taut, then all of a sudden if just comes together if I tweak one line, so I have to practice more. Then the inner seems the perfect blend of size/shape for me, comfy and roomy in the inner, and sufficient space left over to spread stuff around. I try to have the Trailstar down to the ground on 2 sides, then the other 3 raised reasonably high for either ventilation or the view.


Will use the inner with the the Terra Rosa square tarp as well, the tarp being able to string up in endless ways, I have some elastic loops I use to attach the inner where I can.

Hope this helps.
Tue 06 Nov, 2018 6:05 pm
Just saw you mentioned Bear Paw-might be an idea to search "Bear+Paw+reddit+ultralight".
Seem to remember reading something over there a while ago. Some concerns. Maybe pose the question on RedditUL and BPL?
"Should I buy/order from BPWD?"
Just a thought.
Tue 06 Nov, 2018 10:10 pm
Yes thanks it was helpful, all replies.
I was curious if a used Oookstar or Bear Paw came up would they be worth it? I need to save for the MLD so if one came up I wanted to consider them for price saving if quality is there.
It's good to hear from a new user that the inner is roomy as well as outside the inner. It is very encouraging!
Cheers
Thu 10 Jan, 2019 4:02 pm
All very helpful. Thanks.